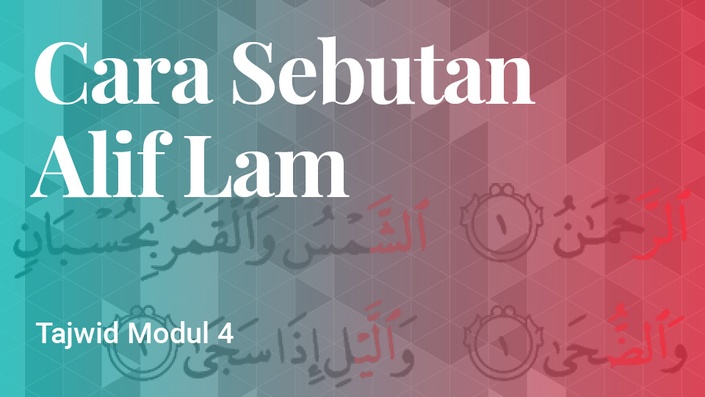 Tajwid 4: Sebutan Alif Lam Qomariyah & Shamsiyah
Terdapat dua jenis sebutan Alif & Lam di dalam Al-Quran. Apakah perbezaannya?
Apakah yang akan anda pelajari?
Untuk modul ringkas ini anda akan mempelajari cara sebutan Alif dan Lam yang sering berlaku kekeliruan. Dan juga teknik mengenali setiap dari Alif dan Lam menurut Rasm Uthmani.
Instructor
Ustaz Hidayat Ismail Islam holds a bachelor in education from Ummul Qura' University, Makkah. He is currently the head of Islamic education at Syukran.com and is also active in missionary work in mosques all over the country. He is one of the lecturer at Az-Zuhri Institution and a former student of Madrasah Aljunied where he once studied specifically with Ustaz Afandi Ahmad.
Email: [email protected]
Frequently Asked Questions
Bagaimanakah cara untuk menghubungi Syukran jika terdapat soalan-soalan lanjut?
Anda boleh hubungi saudara Shahib melalui email di
[email protected]
atau mesej dan whatsapp di 92270244
Berapa lamakah saya mempunyai ekses terhadap kursus ini?
Selepas anda menekan butang "Enroll" anda mempunyai ekses terhadap kursus ini pada bila-bila masa tanpa batasan waktu. Anda juga boleh mempelajari melalui komputer, talifon bijak dan di mana sahaja selagi mana anda mempunyai talian internet.
Bilakah kursus ini akan bermula dan berakhir?
Kursus ini bermula sejurus selepas anda menekan butang "Enroll" dan ia tidak akan berakhir. Ia merupakan "self-paced online course" iaitu mengikut kadar keselesaan anda.
Let's revisit Islamic knowledge today